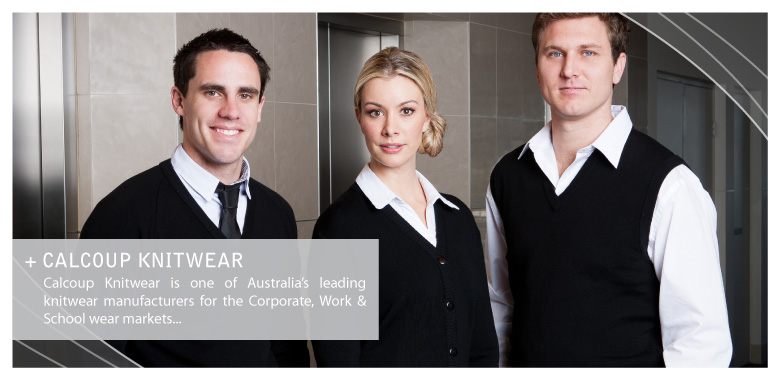 About Calcoup Knitwear
Calcoup Knitwear is one of Australia's leading knitwear manufacturers for the Corporate, Work & School wear markets.
We are totally committed to delivering excellence in the design and manufacture of School, Corporate and Workwear knitwear. Established in Sydney in 1988 by Neil Couper and Peter Callaghan, we are proud to be an Australian owned company, offering an outstanding range of both Australian made and overseas produced garments.
Calcoup offers quality garments manufactured in Australia, Fiji & Vietnam. All of our garments are sourced from state of the art facilities that utilise industry leading Shima Seiki knitting machines. We only use the highest quality Australian merino wool.
We are 100% focused on delivering only the best service and garments to our customers, which is why the Calcoup brand has become synonymous with quality and consistency. From providing an extensive range of stock knitwear, through to bespoke custom designs, Calcoup aims to be an industry leader, embracing the latest technology whilst offering you complete quality assurance.
At Calcoup, we know that our customers often need small quantities of garments quickly. Because we are the manufacturer, we are able to offer customers garments from our Stock Service (minimum order of 10 garments). Stocked items are generally dispatched within 48 hours!
Our Made to Order Service (minimum order of 25 garments) allows customers to build their own designs. Lead times can vary due to raw material/stock levels, but generally garments are delivered within 6 weeks.
Our online store allows customers to order one or many garments from our most popular knitwear collections. So whether you require a stocked item or a bespoke garment, you can be assured that you won't be left waiting!
As a supplier to some of Australia's largest wholesalers, Calcoup meets and adheres to all the requirements for Social Compliance & Ethical Clothing.
To organise an order or if you would like more information about Calcoup, please do not hesitate to Contact Us.